CBP Toolbox
CBP Software Toolbox Version 2.0
The CBP Software Toolbox is a suite of software for simulating reactive transport in cementitious materials and selected important degradation phenomena.
This innovative software toolbox provides a mechanism to meet DOE high priority needs by improving long‐term performance predictions of cementitious barriers by:
Quantifying and reducing uncertainty in Performance Assessment (PA) predictions.
Providing model to model verification for validation of performance predictions.
Simulating leaching and important degradation mechanisms on both leaching and structural performance.
Providing an extensive material property database with cementitious materials used in DOE facilities.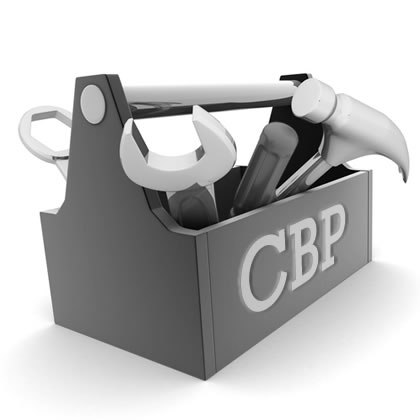 CBP Software Toolbox Version 2.0 is an update and complete replacement for Version 1.0 released in November 2012 and includes three additional software modules. Version 2.0 is enabling users (e.g., DOE, NRC licensees, and other interested stakeholders) to more easily evaluate the performance of cementitious barriers and waste forms over the long term (i.e., up to and > 100 years for operating facilities and > 1000 years for waste management). For additional information, please see the Version 2.0 Factsheet.
The Toolbox Software
The primary software components are LeachXS/ORCHESTRA, STADIUM, and a GoldSim interface for probabilistic analysis of selected degradation scenarios. The current version supports analysis of leaching, external sulfate ingress and attack, including damage mechanics, and carbonation. The LeachXS component embodies an extensive material property measurements database with emphasis on cementitious materials used in DOE facilities, such as Saltstone (Savannah River Site) and Cast Stone (Hanford Site), tank closure grouts, and barrier concretes.
Several software packages are integrated into the Toolbox, each one having a specialized purpose, while interfacing with a GoldSim platform for probabilistic analysis.
Software descriptions and capability demonstrations are available in the following CBP reports:
Three two-day workshops were conducted to introduce potential Toolbox users to each software component through presentation materials, hands-on tutorial exercises, and consulting on user-selected scenarios. The workshop materials are available below:
Workshop Materials
Hands-On Tutorial Exercises — Coming Soon
Please complete and submit this form to inquire about future training workshops, request access to the Toolbox software, and/or ask a question.
CBP Software Interest Form